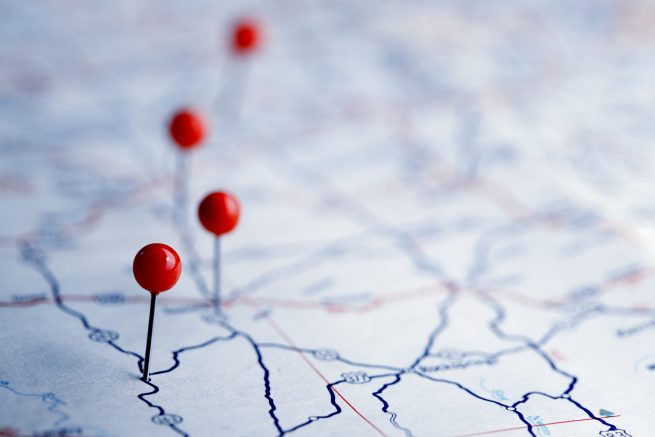 Three years ago our organization started with this question: How can personal support raising be sustainable for everyone?
Several of our staff were severely underfunded, others barely made a full paycheck, and most recruits dropped out during on-boarding. However, we had a handful of staff members thriving, fully supported, and a generous rainy-day fund in the bank.
Was it possible to provide a roadmap that worked for our entire staff?
After ten years of personal support raising, I attended my first SRS Bootcamp eager to learn and answer this question. I walked away with this conviction about support raising that changed everything, the mission of Jesus moves forward through the generosity of God's people. This conviction has led our ministry though a philosophical shift, from asking for support to cultivating a generous community. To cultivate this generous community, we developed a roadmap that we call the Donor Journey.
Since we have implemented the Donor Journey, paired with ongoing SRS Bootcamps, 95% of our staff is fully funded (up from 70%), staff have clear objectives and goals, our coaching structure has gained clarity, we have created an on-ramp for new staff to join our ministry, and we have defined how personal and organizational asks work together.
Here is the simple premise of the Donor Journey. There are two key ingredients to fuel the mission of Jesus – people and generosity. Both need to be cultivated in relationship. The Donor Journey gives us a tool that allows our staff to be intentional about cultivating these relationships. Why does this matter? Because the mission of Jesus depends on it! The mission of Jesus moves forward through the generosity of God's people.
I want to share these two resources in hopes that they may be useful for you and your organization.
1. The Donor Journey – which answers the question: How do I cultivate a generous community?
2. The Donor Journey Calendar – which answers the questions: Where do I focus? How do I spend my time?
Each tool deserves a robust conversation, however for the point of this article I want to provide a brief description on how to use each resource.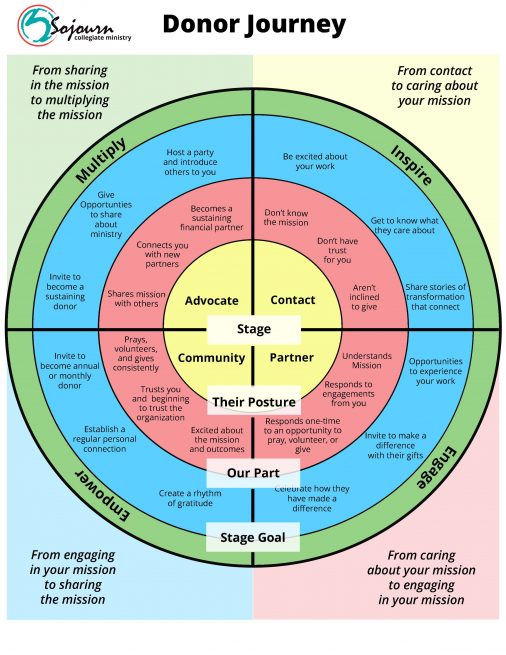 The Donor Journey
We have broken the donor journey down in four stages: Contact, Partner, Community, and Advocate. To use this tool you move from the inside of the circle (Stage) to the outside (Goal). The inside of the circle describes the donor (or potential donor). The outside section describes our part in cultivating this community.
Here are the four major components:
– Stage – describes the person you are reaching (donor).
– Their Posture – describes the normal posture of the person in the specific stage (donor).
– Our Part – describes our actions to invite this person into the next stage (staff person).
– Stage Goal – describes our goal of each stage (staff person).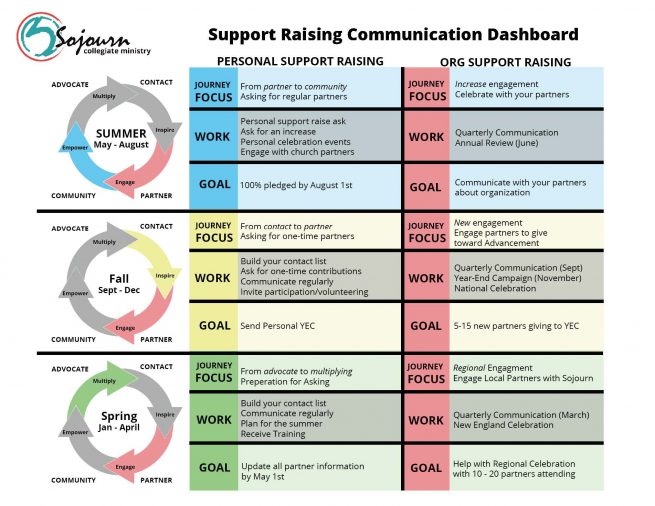 The Donor Journey Calendar is a tool that coordinates with our campus ministry schedule. We have 3 primary seasons in ministry: Summer, Fall, and Spring. Once on-boarded, our staff is expected to spend at least 5 hours a week on support raising. This calendar provides the general guidelines for how to spend this time. Our coaching structure supports this calendar with specific and customized goals. In this calendar we clarified what our organizational support raising efforts will be and how our team is expected to interact with our organizational goals.
I started with asking the question, was it possible to provide a roadmap that worked for our entire staff? Yes, it is! At least that has been our experience.
The Donor Journey has clarified our coaching. Our coaches, who wear multiple hats within our organizational structure, can pinpoint goals easily. Our staff uses the same language when describing their partners which allows our coaches to effectively make recommendations to move beyond challenges.
The Donor Journey has given us an onramp for new ministers. Movement is exciting! It is discouraging when we only celebrate the big moments, like baptisms or a $500 per month donor. The donor journey allows new staff to celebrate all movement, even if it is small. It also allows our staff to see that this is a matter of discipleship, not a sales call. It has allowed our staff to truly see each ask as a God Ask.
The Donor Journey has given us staff buy-in for personal asks and organizational asks. If you sit in a chair that raises support for the entire organization then you understand the tension that exists between staff and organizational asks! The donor journey has allowed us, as an organization, to use organizational asks as growth opportunities for personal support raising.
Just like any tool, there are imperfections. But I hope there is something in these tools that will spur on creative thinking in how you cultivate a generous community. Their generosity fuels your ministry so more will come to know Jesus. We are better together. Blessings friends.