A few weeks ago a ministry leader told me, "Raising personal support doesn't work except in the upper-middle class among white evangelicals with disposable income."
More and more voices agree. The criticism is:
You must have a large personal network.
People in your network must have a heart for ministry, high disposable income, and understand monthly giving.
It takes too much time. A nationally known pastor told me, "It is too bad you Navigators have to spend so much time in fundraising rather than ministry."
Personal support aligns donors to the missionary rather than the organization.
I hear these criticisms. But I also hear a louder voice. Gospel-workers are tired of:
Chasing one-time donors.
Writing yet one more newsletter.
Phoning potential donors who never pick up.
They are drained by the emotional exertion of trying to find people who might give. And they dread someone saying, "Why don't you get a real job."
But before we abandon personal support raising, let's analyze why it is not working.
1. Failure to invest adequate time
Many ministry workers send only one or two newsletters per year and make only one or two appeals per year—two percent of their time (diagram).
Where do we get the idea that fundraising should not take much time? Perhaps from the philosophy that if you simply do ministry, money will come in. A few gospel-workers reach full funding without asking, but that is rarely the case. I suggest 20 percent of your time go to fundraising/donor ministry and 80 percent to your target ministry—both are ministry.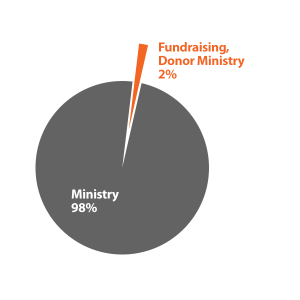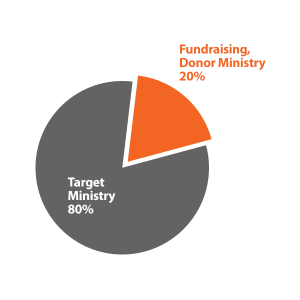 2. Failure to make face-to-face appeals
Look at these "yes rates" for seven types of appeals.
Historical Yes-Rate (10 countries)
Type of Appeal
Face-to-face
Phone/letter
Personal letter
Group meeting
Mass mailing
Mass emailing
Crowdfunding
Yes Monthly
50-60%
20%
10%
9%
0%
0%
0%
Yes Cash
20%
10%
15%
9%
5-15%
<5%
<.1 of 1%
Total
70-80%
30%
25%
18%
5-15%
<5%
<.1 of 1%
Face-to-face appeals generate 50 percent "yes" in monthly gifts, plus 20 percent in cash—70 percent of the time you walk away with a commitment—far more than with other methods.
Some missionaries get 100 percent "yeses" from email or Facebook messages, but only from two or three friends who would give anyway.
Also, face-to-face promotes deeper relationships than other media. When you asked your wife to marry you, did you text her?
3. No training or accountability
These monthly average incomes reflect the value of training.
Monthly Average Donor Income for Staff in European Country X
2009-10
2013-14
Increase (Decrease)
Staff being trained in fundraising with accountability
1143
1661
45.3%
Staff not being trained in fundraising
1764
1664
5.7%
4. Lack of prayer
In my early ministry days I was discouraged about our lack of support. A friend asked me, "Scott, do you pray about it? Do you pray about it every day?"
I confessed, "Not every day."
But I immediately made a change. Each year on the daily prayer page in my journal I write my monthly budget and I mention that number to the Lord every day. Matthew 6:11 says, "Give us this day our daily bread."
Fundraising is spiritual ministry. God is our Source. Ask Him before asking others!
To be fair, raising personal support is more difficult in non-Anglo and non-evangelical cultures. I do not dismiss the difficulties. However, you can still:
Creatively educate prospective partners about monthly giving.
Expand your mailing list. (Utilize your Facebook friends list!) Don't ask, "Who will give?" Ask instead, "Who needs to hear my story?"
Seek firstfruits giving—not "disposable income." Wealthy people are not the solution.
Find a partner and raise funds together.
It is too early to give up on raising personal support! Start anew by:
Investing more time.
Asking face-to-face.
Finding training and accountability.
Praying daily.
Scott Morton is a contributing author to the SRS Blog. To visit his personal website on support raising, go to scottmorton.net.